nerdtchose in
simbsc
Kristy's Great Idea
I know I post an awful lot... But I had to check my tutorial to make sure it made sense so I made another cover, this time with the new design.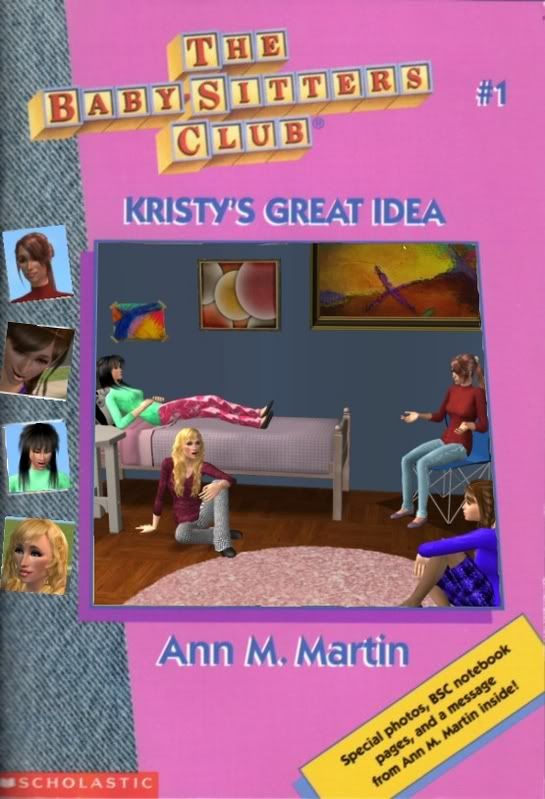 About the tutorial: I used The Gimp to make this cover and it doesn't work like Paint.net. So some of the steps may change depending on what you're using and how. The most important thing to remember is to void the cover of its art before transferring in the new one (since the new cover is not square and the old one has the BSC blocks) and to make your new picture the background layer, then to stick the cover layer over it.
The sitters' pictures on the side can be pasted afterwards and rotated. This is what I did.
About the clothes: I made Mary Anne's, Claudia's and Stacey's clothes. Mary Anne's outfit is a Maxis recolor of the long pink/red skirt and of the pink vest and shirt (I could have used the blue one, it would have been much easier!). Stacey's pants are a recolor of HystericalParoxysm's
Untuckable jeans
and an untuckable shirt by
Arbaces
. Claudia's shirt is also a recolor of an Arbaces shirt, and a recolor of Emileaf's
Untucked skinny jeans
.
P-S: I know that Mary Anne's picture is too small to fit the frame, but I got lazy.